We have wanted to see Mexico City since our friend moved there 2 years ago. Having a friend or family member to show you around a new place improves the experience, especially when the place is a sprawling and traffic congested metropolis like Mexico City.
We stayed in an Airbnb in Polanco, an upscale part of town with great restaurants, museums and shopping. I wasn't prepared for the modern feel of Mexico City, but it is so huge and has engulfed what used to be surrounding villages that the further out you go, the more rustic and village-like the neighborhoods feel. Polanco, very close to the Historic Center of the city is also a tech hub, so there is a very young, hip, business-like feel to it. We stayed there because it was, close to our friend, and it is also very safe but do your research before you go! We did not like our Airbnb!!!
The immigration lines were insanely long and slow on Friday night. It was already late by the time we checked into our apartment and we were starving. Diana picked us up in an Uber and took us to a "typical" taqueria, Surtidora Don Batiz in Polanquito. The place was open, airy, bustling and brightly colored. We had an array of delicious things to share, including tuna ceviche tostadas, octopus and nopales tacos, and delicious carnitas ordered by weight and local favorite spirit, Mezcal. When we were finished eating we hoped in the line to go through the refrigerator door that leads down into the speakeasy, Jules Basement. It was a beautiful space but packed to the brim so we decided to call it a night to get some rest in preparation for the day ahead. If you're a fan of jazz, this is apparently the place to be on a Friday night!
In the downtown area of the city known as the Historic Center, we headed to the Metropolitan Cathedral, the largest cathedral in the new world and on the site of a former Aztec temple!
Outside, Aztec performers danced to drum beats in amazing costume for money. Inside was gorgeous, reminiscent of the many European cathedrals we have visited. I found the organs particularly spectacular.
Xochimilco
Later that afternoon, we met Diana at her apartment to meet up with friends and take a car to the Southern end of town. Travel tip for Mexico: traffic is a nightmare! Drives that could take 30 minutes sans traffic, take up to 2-3 hours during the day, and that isn't even during rush hour. Sunday is the best day to travel long distances as the roads are relatively clear. We were advised not to take the metro, as it can be dangerous, slow and unreliable. It's a good idea to factor in traffic when planning your day. Neighborhoods that look close on the map can end up taking an hour by car. That said, Mexico City is gorgeous and its center of town is easily walkable if you have the time. I say all this because the drive to Xochimilco (So-shee-meel-co) took about 2 hours. Luckily, we were in good company, which made the time go by faster.
I had read about the canal boats in Xochimilco so I was so excited when Diana told us a group of friends were renting a boat (trajinera) for the afternoon to explore the canals. On weekends, the canals in the southern part of the city fill with colorful boats carrying tourists, locals, celebratory parties, vendors selling food, booze, and knick-knacks. Boats with mariachi will also ride alongside your boat and serenade you for a fee.
Each boat has a long table and chairs to accommodate big groups. The navigator pushes the boats along the shallow water with a giant oar. For a fee, they will also provide passengers with a smart phone ready speaker so you can play your music during the ride. We made our way to Espiritu de Navidad, a company that embarks on a quiet canal off the main canal. For a negotiated price of 300 pesos per hour and a cup of tequila, we were off!
The boats pass manmade islands, some unoccupied like the famous Isla de las Munecas - the island of the dolls - a creepy little island full of hanging, discarded dolls, and doll heads. Other islands are occupied with homes, restaurants, and shops.
The experience was dream-like and I imagine if you stick to the smaller canalways, it can be quite relaxing. In the main canal, it is like Mardi Gras on the water! It is colorful and a bit overwhelming at times but SO MUCH FUN!
Tips for Xochimilco: though there are boats selling food, it is advisable to bring your own snacks to tide you over. If you do see street food, such as tacos or elotes, partake! The food is delicious. Unfortunately, due to the popularity of the area, it's easy to get scammed as a tourist. Have a plan and stick to it. Once you hit the borough, men on bikes will try to get you to go to their particular boat rental business by concocting stories about closures and damage to other more popular businesses. Ignore them and keep going. There are several areas to rent from and the place can seem like chaos! Our car dropped us off near the market area full of Mexican souvenirs and food. I think the prices here are higher than in the city so have a look around, but know that there are better options in the city. We rented the boat for 3 hours which was plenty of time to enjoy the sights and sounds of the canals.
Coyoacan
The next morning, we headed down to Coyoacan, a neighborhood in the southwest of the city to visit Frida Kahlo's Casa Azul. Like many neighborhoods outside the center of the city, Coyoacan was once a small village until, with the expansion of the metropolis, it became incorporated into the city itself. The neighbourhood still maintains a village feel. It's quieter than the city center, has it's own central plaza and the sleepy streets are full of gorgeous vegetation perfect for peaceful strolls.
We had breakfast at the famous Restaurant Fonda El Morral Centro de Coyoacan just off the central plaza. On a Sunday morning it was full of locals having brunch and catching up. The coffee was amazing and the breakfast big enough to keep us full until dinner. I had the El Morral, a dish with eggs, chilaquiles, chicharonnes guisado and beans. Amazing! My husband stuck with his favourite, chilaquiles with eggs and chicken. We both left more than satisfied.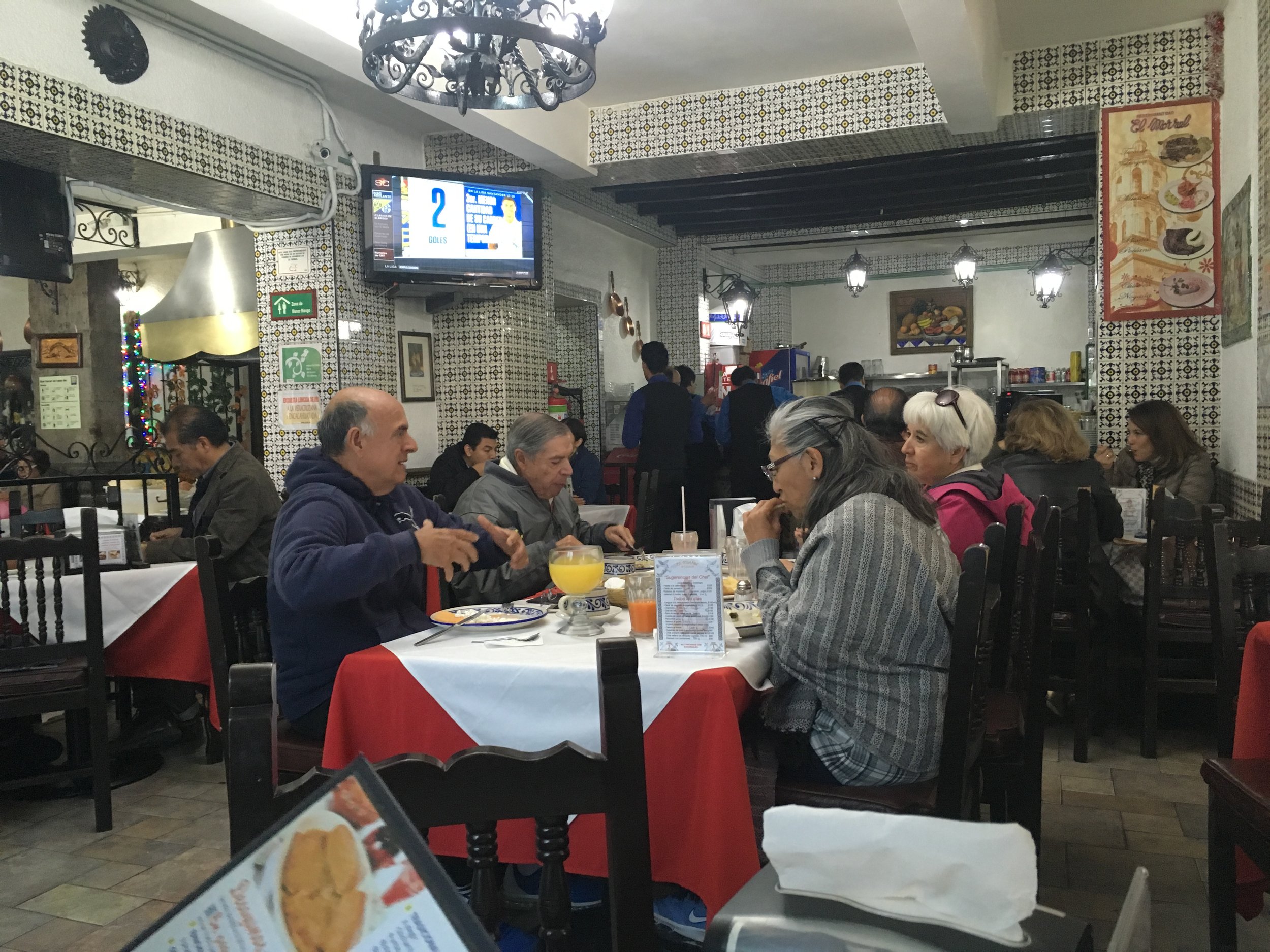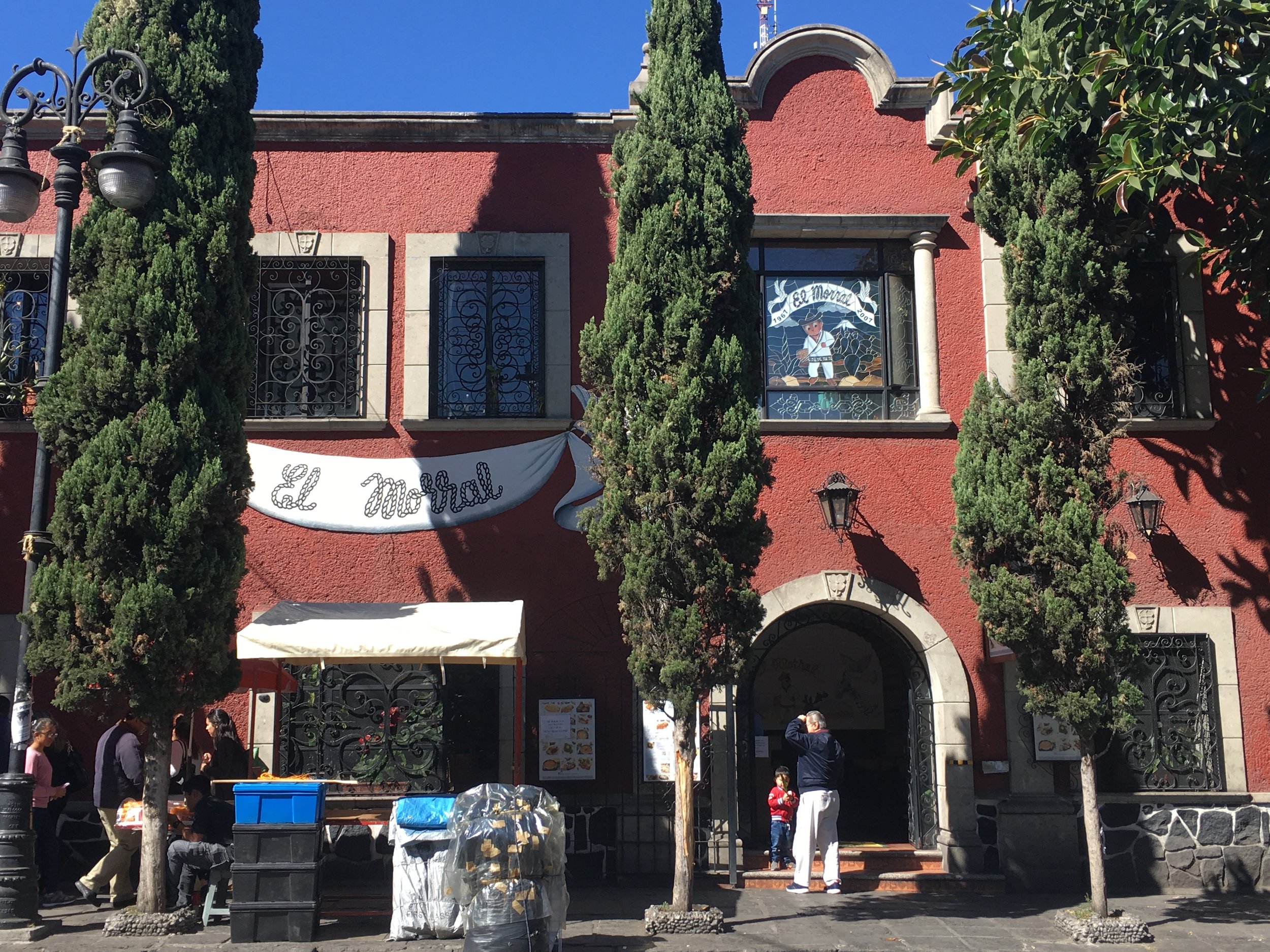 From there we headed to the Museo Frida Kahlo, where we had pre-ordered tickets the day before. This is advisable as the lines to buy tickets are much longer and move much slower. Once in, you can pay a small fee to take pictures once inside.
The house where Frida Kahlo lived and died now houses an extensive collection of her work, her inspirations and her tools. Standing in what was once her studio was surreal and profoundly moving. Windows surround the beautiful room making it bright and airy. It overlooks the lush gardens below and the other bright blue buildings of the complex. A gorgeous easel, a gift from Nelson Rockefeller, stands in front of her leather wheelchair. Her brushes and paints are lined up beside the mirror she used to paint her self-portraits.
Winding through the house takes you into her day chamber. In this room, the small wooden canopy bed that Frida occupied during the period of time after her accident is set up with her death mask wrapped in a stunning blue scarf. On the underside of the top of the canopy is the mirror her mother attached to it so that Friday could work on her painting and portraiture during her convalescence.
The museum house a great deal of artwork from friends and associates of Frida and Diego Rivera as well as well as historical accounts of their interest in communism and their passion for Mexican folk art. It is a magical place, well worth a visit especially if you are a fan of her art.
Just down the street from the museum is one of the most well-known markets in the city, Mercado Coyoacan. On weekends, it is absolutely packed with stalls selling food, clothing, dishes, colorful piñatas, and art. We knew we wanted to pick up some things so we took our time. We found a stall with some amazing cook and dishware where we picked up beautiful Oaxacan dishes. We also found some adorable and colorful dioramas featuring Day of the Dead figurines and some Christmas decorations. You can easily spend a day here so if you plan to do some shopping for Mexican goods, give yourself at least a couple of hours and ejoy the many foods stalls and mariachi!
Museo Nacional de Antropologia
After dropping off our loot at home, we had a couple of hours to visit the Museo Nacional de Antropologia. The museum is located in the expansive Chapultupec Park near Polanco. It houses a collection of pre-Columbian cultural artifacts, from all over Mexico. I wish we had been able to spend more time here, as it's enormous and enchanting. The building itself is a masterpiece. The exhibition halls surround a courtyard with a pond and a huge, flat concrete structure held up by an engraved pillar. The pillar is surrounded by a misty waterfall I imagine children love during the hot summer months! Inside, giant Aztec and Mayan sculptures are often set against floor to ceiling windows behind which lush greenery gives the atmosphere of deep jungle. The effect is really amazing.
The central hall is dedicated to the Aztec period of Mexican history. The crown jewel is the Sun Stone, discovered in 1790, a giant basalt sculpture of mysterious purpose. Though the stone almost certainly depicts the sun deity of Aztec mythology, the exact purpose of the stone remains a mystery. I would recommend visiting during the day or even early in the morning so you can explore the surrounding park as well.
Stay tuned for the next blog on Mexico City!